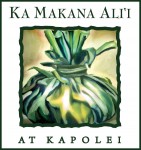 Community Briefing
Please join Hawaii DeBartolo Hawai'i
to hear about plans for
Ka Makana Ali'i, Kapolei's mixed-use center
on Wednesday, July 10, 2013
from 6:00 p.m. to 8:00 p.m.
at Kapolei Middle School Cafeteria,
91-5335 Kapolei Parkway
Refreshments will be served. Program starts at 6:30 p.m.
For more information about Ka Makana Ali'i, please visit www.kamakanaalii.com.
About DeBartolo Development, LLC
Built on a legacy of more than six decades, the DeBartolo name is recognized as an icon in the real estate industry.  Since our beginnings in 1944 when legendary entrepreneur Edward J. DeBartolo, Sr. pioneered the first shopping mall concept and developed some of the most well-known and nationally-recognized shopping landmarks, our legacy has been synonymous with success.  Continuing the family tradition with the same entrepreneurial spirit, Edward J. DeBartolo, Jr., former owner of the five-time Super Bowl Champion San Francisco 49ers and two-time Stanley Cup Champion Pittsburgh Penguins, and his brother, Edward Kobel, have evolved DeBartolo Development into one of the largest private real estate investment and development companies in the country. Today, DeBartolo Development invests in real estate assets of all sizes and scopes, specializing in opportunistic acquisitions and market-driven, ground-up development of multifamily, hospitality, retail and mixed-use projects throughout the United States. DeBartolo Development combines experience, sound research and market foresight with institutional partnerships and strong lender and broker relationships to meet the unique challenges of today's real estate environment.  For more information about DeBartolo Development, please visit our Website at www.debartolodevelopment.com.
###
CONTACT:
Lynette Lo Tom
808.275.3004
[email protected]
Valerie Panou
813.263.7284
[email protected]