***CORRECTION TO TYPO ON PAGE 5 : Number for Hale Workshops on Kauai and the Big Island is 1-877-523-9503***
Aloha mai kākou,
Over the decades, our newsletter has been the main mode of communication between the Department of Hawaiian Home Lands and you, our beneficiaries.
In this edition of Ka Nūhou, we welcome our newest homesteaders in Waimānalo and Ho'olimalima, O'ahu; Pi'ilani Mai Ke Kai, Kaua'i; Keokea-Waiohuli, Maui; and Kalama'ula, Moloka'i. The department prepared over 350 homestead lots statewide and will continue to host orientation and lot selection meetings throughout 2017-2018 on Oahu, Kaua'i, Lāna'i and the Big Island. The department realizes a lot of planning, preparation and sacrifice go into taking that first step towards utilizing your homestead lot as a homeowner.
In addition, we are committed to assisting our beneficiaries by continuously expanding the available options but you also have a kuleana. First, please stay in contact with us and respond to the departments letters when we reach out. Second, take advantage of the free workshops offered by the department which assist in financially preparing beneficiaries to be homeowners. Many families have used the lessons learned in these workshops to ho'omakaukau or rather "get ready" for the responsibilities of building or purchasing a home. Third, when awarded a vacant lot it is important that you actually build a home for your 'ohana. Begin with something you can afford as you can always expand later.
Nothing is more important to myself and the Department than fulfilling Prince Jonah Kūhio Kalaniana'ole's mission of returning native Hawaiians back onto the land. I am blessed to have the opportunity to work with a small, but very dedicated and hard working staff who are committed to this mission.
Aloha,
Jobie M.K. Masagatani
CHAIRMAN, HAWAIIAN HOMES COMMISSION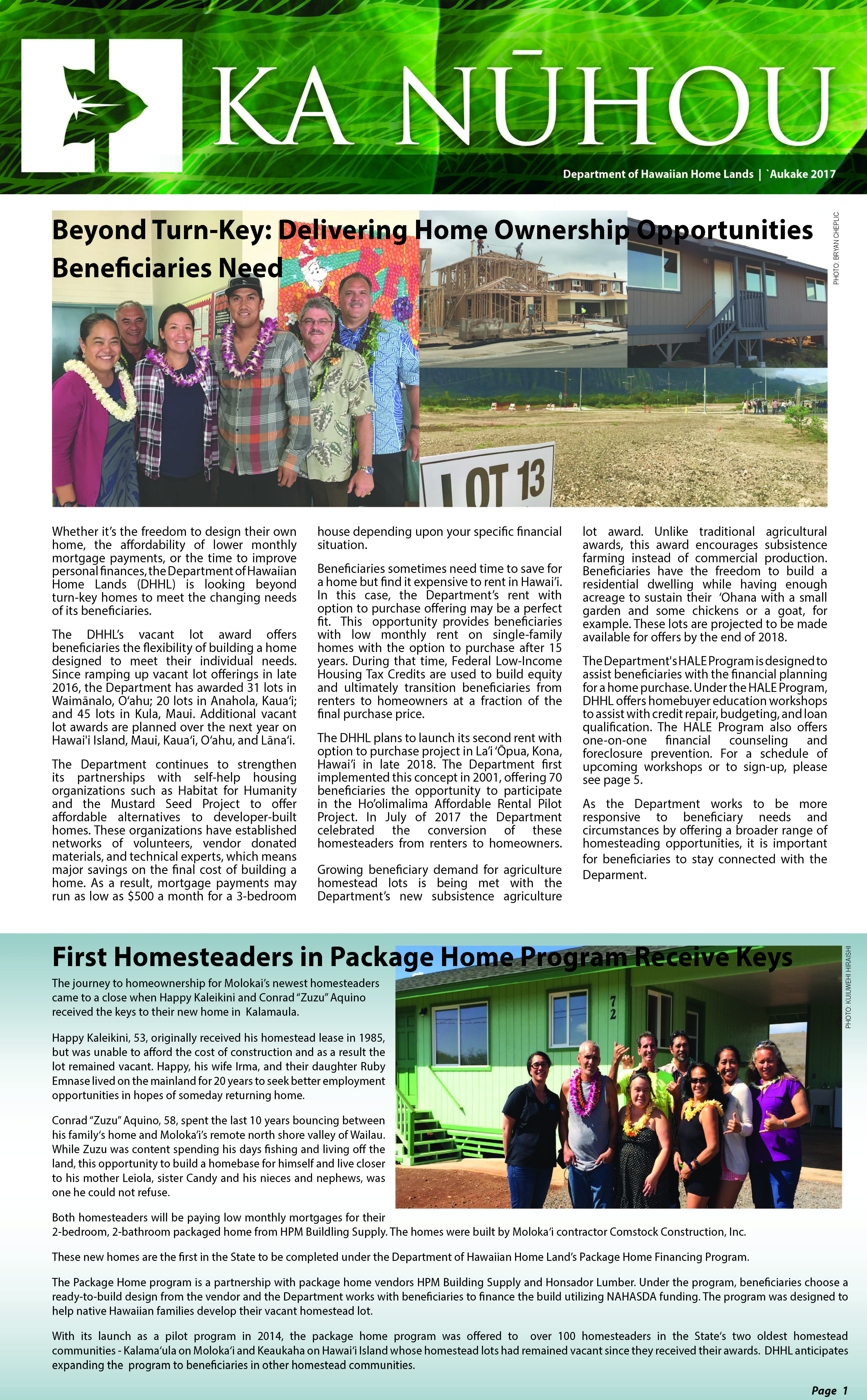 Click here to download a PDF version of the Ka Nuhou
For further information about the Ka Nuhou or if you would like to obtain a copy please contact the Information and Community Relations Office at (808)620-9590.