O'AHU, KAUA'I  STATE OFFICES ALSO CLOSED, FRIDAY, AUGUST 8, 2014
If Disaster Strikes
If you are instructed to take shelter immediately, do so at once.
If you are instructed to evacuate:
EMERGENCY: POLICE, FIRE, RESCUE, CALL 9-1-1
News Updates and Other Information
General Hurricane News Updates
Elections Saturday, Vote Early If You Can!
DHHL Puukapu Meeting Postponed
Due to the approaching storms, the Department of Hawaiian Home Lands (DHHL) is rescheduling the Puukapu Pastoral Lots Roadway Improvements Community Information Meeting that was originally scheduled for August 11, 2014.  DHHL will mail you a new invitation letter with the rescheduled date of the meeting.
Jeffrey Y. Fujimoto
Department of Hawaiian Home Lands
Land Development Division
Phone:  808-620-9274, Fax:  808-620-9299
E-mail:  [email protected]
DHHL Urges Disaster Preparedness
In recognition of the possibility that our beneficiaries may be impacted by effects of the two storms now approaching the islands, the Department of Hawaiian Home Lands is advising everyone to prepare for the worst and to hope for the best.
The main message conveyed is for everyone to be prepared and to have at least 7 days of supplies to care for yourself and your family members. Government can be there to assist in recovery and resiliency following a disaster, but the greatest impact and success for personal safety is what you do for your emergency preparedness and response efforts.
Here are some planning tips from the State Civil Defense Website:
Preparing For Disaster
Being prepared for disaster is important. When disaster strikes, you may not have ample time to respond and ensure the resources you and your family need to survive are available. Moreover, hundreds of other families in your area share the same concerns, and it will be difficult to get access to the necessities you need due to shortages and competition. Do not wait until the last minute and get caught in this situation. Disaster-time civilian response requires sound decision-making and action to save the lives of families and friends.
When determining your emergency needs, plan for the long haul. In any major disaster scenario, it may take 72 hours or more for emergency personnel to reach you. Emergency preparedness kits should contain the essentials your family needs to survive during a disaster. Having two is ideal; a multi-purpose kit that with provisions for more activities for the home, and a transportable slimmed down kit with bare necessities for survival when on the go. Any preparations should be accompanied by an emergency plan. Know where your family is and how to keep in contact in the event of a disaster. Most of all keep informed. Find out what disasters you may be affected by and plan accordingly. Determine and manage your emergency needs as required.
Additionally, your family may not be together when disaster strikes, so it is important to plan in advance: how you will contact one another; how you will get back together; and what you will do in different situations.
For more info about how to put together your own emergency preparedness kit, check out this link to the State Civil Defense website: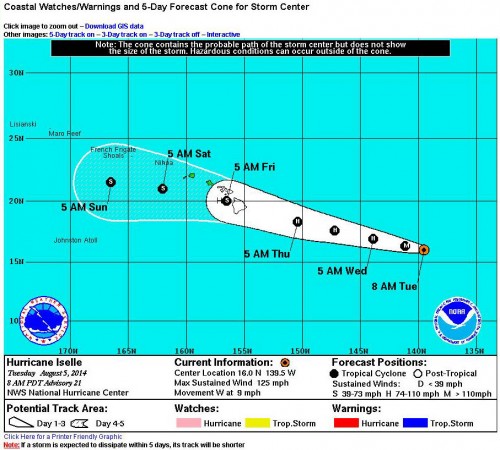 Contact Information (with web links in the titles):

EMERGENCY POLICE, FIRE, RESCUE, CALL 9-1-1
Department of Civil Defense Division, State of Hawaii
3949 Diamond Head Road
Honolulu, HI 96816
(808) 733-4301
City and County of Honolulu Department of Emergency Management
–  NIXLE Emergency Updates
650 South King Street
Honolulu, HI 96813
(808) 723-8960
Kauai County Civil Defense Agency
Suite 100, 3990 Kaana Street
Lihue, Hawaii, 96766
(808) 241-1800
Maui County Civil Defense Agency
200 South High Street
Wailuku, HI 96793-2155
(808) 270-7285
Hawaii County Civil Defense Agency
920 Ululani St.
Hilo, HI 96720
(808) 935-0031, (808) 935-3311 (after hours)
---
DEPARTMENT OF DEFENSE
Hawaii Emergency Management Agency
N E I L  A B E R C R O M B I E
G O V E R N O R
M A J O R  G E N E R A L  D A R R Y L L  D .  M .  W O N G
D I R E C T O R  O F  E M E R G E N C Y  M A N A G E M E N T
D O U G  M A Y N E
A D M I N I S T R A T O R  O F  E M E R G E N C Y  M A N A G E M E N T
FOR IMMEDIATE RELEASE
Aug. 4, 2014
HURRICANE ISELLE UPDATE #1:
ANTICIPATED EFFECTS AND PREPARATION
HONOLULU – Hurricane Iselle is a Category Four tropical cyclone tracking 1,190 miles east of Hilo, Hawaii. The National Weather Service (NWS) has not issued any watches or warnings for Iselle at this time, but has advised the Hawaii Emergency Management Agency (HI-EMA), formerly known as State Civil Defense, and county civil defense and emergency management agencies of the potential for Iselle to make landfall in the Hawaiian Islands.
"It is likely Iselle will impact the islands sometime Thursday afternoon and will leave the state late Friday to early Saturday," said Doug Mayne, Administrator for Emergency Management. "Although the system should weaken according to forecasts, we recommend residents and visitors stay cautious and monitor local news stations."
Recommended preparedness actions for tropical cyclone are:
Have a reliable way to get information (e.g., sign up for local notification systems and get a battery or crank-operated radio). Information on local emergency notification systems can be found at
Kauai – www.kauai.gov
Oahu – www.nixle.com
Maui – www.co.maui.hi.us/list.aspx
Hawaii Island – Email  [email protected] and request enrollment to the emergency notification system. Include your mobile phone number.
Review or create emergency plans that detail how to communicate with your family and friends in emergencies as well as where to go if asked to evacuate.
Put together or check your emergency supply kit. This kit should have seven days of food and water. Visit  www.scd.hawaii.gov for a checklist. You should also have a smaller evacuation bag with changes of clothing, sturdy shoes, and copies of your identification and important documents.
Prepare your home for possible high winds or locate the three hurricane evacuation shelters closest to you.
Monitor local news broadcasts for the latest information.
---
Emergency Preparedness E-News
for People with Disabilities and other Access and Functional Needs
In recent years Hawaii has been fortunate not to have experienced any major hurricanes. Residents and visitors should not be lulled into a false sense of security because of this fact. We need to remember Hurricane Iniki hit Hawaii in 1992. It was a Category 4 hurricane that killed six people and injured more than a hundred others. The worst impact from Iniki was on Kauai; however, a hurricane can hit anywhere in the state.
Government is responsible to develop communication systems and procedures and provide sufficient shelter space. However, due to the size of Hawaii's population, there are not enough spaces to accommodate every resident or visitor who may need a space during a hurricane. And all of the shelters identified by government may not be able to withstand the worse hurricane that may hit the islands.
Remember during hurricane season (June through November each year), individuals must prepare themselves and their homes to minimize losses.
Specific items to know are:
1.    Prepare a emergency kit and include food and water (for drinking, bathing, flushing the toilet), personal toiletry supplies, clothes and shoes, blankets, a plastic bag with copies of important papers, with cash, and specific medical supplies you may need for at least seven (7) days for each person.
2.    Test your emergency equipment to make sure it works. This includes flashlights, lanterns, other gear that uses batteries, generators, and portable stove for cooking.
3.    If you need to evacuate, know where the closest shelter is in advance and have a communication plan to let family members know you are alright.
4.    Be informed. Listen to the radio or t.v. to find out which shelter is open. You don't want to go to a shelter that is not open and have to find another one.
Living on an island means people and communities will need to depend on themselves and each other during a disaster!
Get ready today. Be prepared!
Debbie Jackson
Planner
DCAB Contact Information:
Disability and Communication Access Board
919 Ala Moana Blvd., Room 101
Honolulu, HI 96814
Phone: (808) 586-8121 (V/TTY)
FAX: (808) 586-8129
DCAB General Delivery Email:  [email protected]
DCAB Website: http://health.hawaii.gov/dcab/
Call toll free from Neighbor Islands:
County of Hawaii:  (808) 974-4000, ext. 6-8121#
County of Kauai:   (808) 274-3141, ext. 6-8121#
County of Maui:    (808) 984-2400, ext. 6-8121#
Molokai & Lanai:   1-800-468-4644, ext. 6-8121#